An attractive job post is an excellent way to recruit the best candidates. And the first step to bait them is to write a compelling job description. By using a persuasive job advertisement, you are more likely to attract quality applicants and convert them. And, If it is dull and generic, then that is the type of candidate it will attract. Therefore, the quality of your job posting determines the quality of the candidates who apply. 
We have listed below some important details you should include in your job post to make it irresistible to attract qualified professionals;
Start With Enticing Content that Grabs Their Attention
When the right candidate clicks on your job post, you do not have all the time to keep their interest and convert them by the end. Therefore, It is critical to start with something exciting right at the top, so they read further, Or else so many competitors are already waiting for them in line. And, the moment they clicked the back button, your chance to attract them is gone forever. 
As an example; You may begin with a tempting question like, Is this you? This way, it becomes interactive, and the reader becomes curious to find out if it is them, and continues reading.
Write A Clear and Creative Job Title
Unless you want to attract just anyone to fill a position, writing a relevant job title is necessary to grab the interest of those who can offer you relevant experience and traits. In this scenario, stating the targeted job titles are more powerful than nonproprietary ones. Hence, include key phrases that accurately describe the role in your company.
Also, It should not be dull, but something creative and compelling to attract top-of-the-line job seekers. 
Hook Them with Intriguing Quality Questions 
The potential and passionate candidates seek quality and contribute to something meaningful. To get them to notice you, ask them insightful questions.
Let us say you are a recruiter and you are searching for a graphic designer job. Begin with something like;
Would you like to design captivating content for a company growing at a rapid pace?

Are you creative at what you do and love to share new ideas with others?

Do you have the vision and talent to work for innovative media concepts? etc
So, it will resonate with them and make them interested in reading the rest of the job description.
Summarize the Job Before Getting into Details 
Write a brief paragraph or use bullet points to highlight important things about the company. Make things as clear as possible. Keeping things mysterious will only discourage them from working with you.  
Keep it concise and mention things like;
What this position aims to achieve for the company

Mention a goal that will interest the candidates to serve a purpose

Mention what they should be doing on a day to day basis

Make the position quite clear, so they know what kind of work they will be doing

The intriguing aspects of this position and any other pertinent information

Mention the Organization's Goal, Vision, and Environment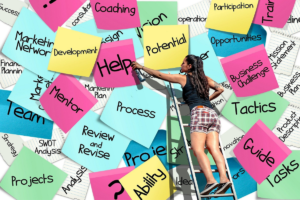 According to a survey, 71% of job seekers find details about company culture extremely important. Therefore,  
Make sure to tell the candidates about your company's vision, mission, and values. 

Also, include defining attributes of your company's culture and workplace to paint a picture of what it's like to work for you. 

Mention What will You Provide Them 
Jazz up your job posting by mentioning all the perks and benefits of this job and position so they would know what's in it for them to leave their old job and join you. Why this position would be beneficial;
Include the compensation plan and commissions 

Tell them why you are a great place to work with

What makes your company unique 

Tell them Any accomplishments or qualities you are proud of 

Your Unlimited PTO or a bonuses

Flexibility in working hours 

Qualify Them At the End
Finally, by the end, mention anything else you want to address from a technical standpoint. For instance,  
What courses do you want them to have taken already?

What is the required degree for candidates? 

Experiences that you prefer 

A list of required documents 

Software skills Or any other necessary skills

Close with How to Contact You
Finally, write a closing invitation of two to three sentences and mention the best way to reach the candidates who match the criteria. For example, if you prefer to receive an online response as an attachment or embedded in an email. If you have a website, always encourage them to check it out.