Fathers are so wholesome that they rarely need gifts, but it is nice to appreciate them from time to time. On top of that, they are really easy to please. One of the best gifts that I have ever given to my father or my grandfather is a nice bottle of wine, specifically "Vinho do Porto", a total treat. Now, that is not to say that I suck at giving them gifts, they just take more pleasure from the simple things – a great meal, an amazing wine, and family time. Full disclosure though, the best gift I have ever given my dad was a top-of-the-line grill.
Even though most fathers are super easy to please, some cool gifts are always welcomed, right? Let's see some nice stuff.
Whiskey soaps
I know, it sounds crazy but these are the small gifts that men like to receive. If your father is old-fashioned and likes whiskey, can you think of a better combination for him? The scent is very sturdy and woodsy?… Is that even a scent? It smells like wood, a manly smell. He will love it and laugh about it, trust me.
Beer subscription
Since we were talking about whiskey, might as well suggest this one, too. Sadly, I do not have this service in the area, or else I would totally go for it. It is a unique and super interesting idea though. My father and I love craft beer, we even had a brewing set a few years ago! And this is exactly that. You gift a subscription to your dad and he will receive several different craft beers to taste.
Cast iron smoker box
Every man likes to do some grilling and our dads are no different. Some of them even take it too seriously and take extra pride in being the grill master of the family. Now, with this smoker box, your father will be able to give his favorite food an extra smokey flavor. Let's be honest, this is a perfect gift for your dad and for the whole family. This will take the barbeque flavors to a totally different level.
And if you are thinking this is not cool enough, you can pair it with a monthly bacon subscription. Yes, there are services that send you the best bacon cuts on a monthly basis; my mouth is already watering.
Fitness bands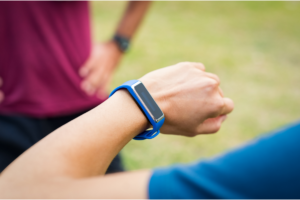 After so many tasty treats, it is only fair we take a healthier approach now. These little things are all the rage now and if your dad is looking to lose some weight, they are pretty motivational. Men love to quantify and see visual progress on their goals, and with a fitness band, they can perfectly track their calories and training!
Beard trimmer
Manly and stylish beards have been a thing for centuries, even before all these barbershops started popping up. Sadly, my dad was a bit lacking in facial hair but my grandad totally loved his beard trimmer. He rocked that neatly trimmed beard better than anyone I know. It is the perfect gift for the modern man.
USB pocket flashlight
Both my father and grandad were electricians, and they always carried two essentials – a swiss army knife and a flashlight. Now you can gift a USB rechargeable pocket flashlight that is useful for all types of situations. Even if your dad does not have the habit of carrying around tools, it is the perfect tool to keep in the glove compartment of his car.
Foam rollers
Hey, aging is a tricky thing that brings all kinds of aches to the joints and muscles, especially if your old man likes to work out intensely. You might not imagine him working with a foam roller, yes, it can feel a bit uncomfortable at first, but he, and his joints, will thank you later. These little things are perfect to relieve those tight spots in the body and help him relax after a hard day.
Final thoughts
With these ideas, you should have no problem picking a cool and original gift for your dad. Nowadays, there are so many different and cool things that we can offer to the special men in our family, it is insane. Even though some of them might be a bit dorky, they are fun and show that you know what they want.
You can always go for a custom gift, like mugs or tumblers with a personalized message. These are always special, but not as fun as a whiskey soap! Good luck with your shopping.