Businesses are always looking for cost-effective ways to enhance their productivity. Cloud computing has made life convenient for companies and customers. Before cloud computing businesses had to establish an on-premises IT infrastructure which was pretty costly.
What Is Cloud Computing?
Cloud computing is delivering on-demand IT resources over an internet connection. The computer services that are a part of cloud computing include storage, networking, servers, analytics, databases, networking, etc. These services allow businesses to improve the efficiency of their infrastructure.
Types Of Cloud Computing Business Solutions
Cloud computing business solutions offer cost-effective IT services. Every business is unique so before choosing a cloud computing solution it is essential to explore the different types.
Here are some different business solutions by cloud computing.
Web-Based Services
Web-based services allow organizations to use different web functions instead of a full application. They are XML-based systems that exchange information via the internet and offer direct application-to-application interaction.
The web services are modular, self-contained, and dynamic applications that can be published, invoked, or located over the network to create supply chains, products, and processes.
Businesses can use these services for processing accounts and payrolls. You have the freedom to choose assortments of web applications that are useful for the business. To find the best solutions you can choose individual services from multiple providers.
IaaS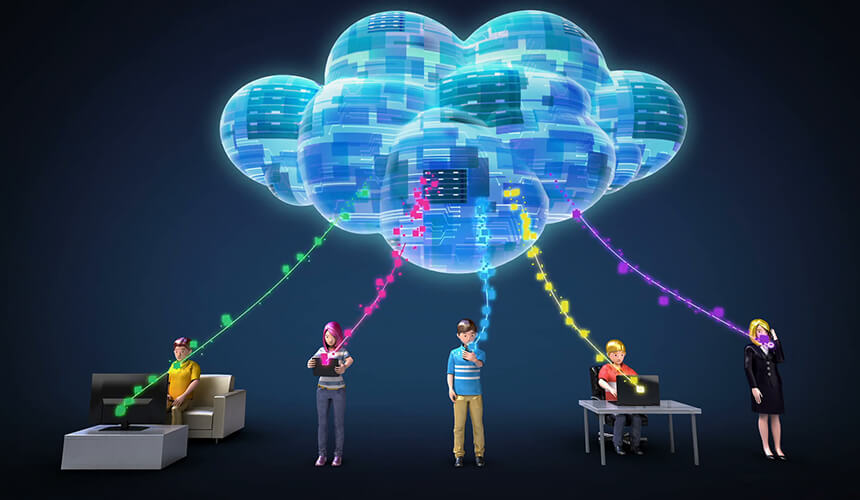 Infrastructure as a service, also known as IaaS offers necessities for the cloud. It offers access to virtual machines, network functions, storage space, and dedicated hardware. These technologies are the foundation of business operations and other cloud-based services.
Amazon and Azure web services are two common IaaS providers available. They allow businesses to outsource infrastructures such as storage space, space required for testing and backup. Azure offers access to service buses, non-relational storage platforms, message queues, and virtual networks.
The service models you can use to deploy IaaS are public cloud, private cloud, and hybrid cloud. IaaS is cost-effective and helps in calculating the fee through usage-based metrics.
IaaS makes sure there is minimum downtime and enables instant recovery in case of an outage. Once the IaaS machines provisioning occurs, companies can start their projects. It enables innovation by adding new capabilities and leveraging APIs.
SaaS
Software as a service (SaaS) is a distribution model where the cloud provider is host to applications and ensures their availability to end-users via the internet. It is a commonly used area of cloud computing that offers multiple cloud tenants to an application.
One of the common forms of SaaS is Office 365. It allows anyone to open a monthly subscription to the Microsoft suite of Office products. SaaS offers a complete solution package managed and owned by the provider of IT services. The solutions are optimal for the daily operations of the end-user application.
SaaS can be deployed using hybrid cloud, private cloud, and public cloud. It does not require installation, traditional licensing management, or equipment updates. It is a cost-effective solution as there is no upfront cost for the hardware and the payment methods are flexible.
SaaS is a worthy investment because it offers access to intelligent tools and data reporting. It is a perfect choice for startups and small businesses as it can handle capital, expertise, and time for them. Large companies often use it for short-term applications and projects. SaaS helps deal with applications that require mobile and web access.
PaaS Cloud Computing
Platform as a service (PaaS) includes the operating system required to deploy and manage cloud applications and the hardware. It is helpful in increasing the efficiency of the business as it saves time on planning, procuring, managing, and maintaining the cloud-based solution.
PaaS is a perfect choice for small businesses and startups because it is cost-effective and gives organizations a chance to focus on their specialty instead of worrying about the maintenance of basic infrastructure.
Companies do not have to spend hours setting or maintaining the core stack. It offers access to the data center of the best quality, operating systems, and hardware. PaaS invest in expertise and security technology.
PaaS is a flexible cloud computing solution that allows employees to access and work on applications from any location. It has operational tools which allow developers to create custom software.
Customers can deploy PaaS using private cloud, hybrid cloud, and public cloud. Use PaaS for developing software for internal use as well as for sale.
Conclusion
Cloud computing business solutions enable organizations to leverage resources provided by cloud services. They can store and manage the resources in secure and private networks and servers. They offer a simple solution to mobilize and back up important data and solutions.