Are you thinking about becoming an app developer? That's a great idea! App development is a really popular career choice, and for a good reason. App developers can work from anywhere in the world and earn a pretty nice paycheck from the comfort of their chairs, but these are just some of the reasons to become an app developer. If you still have doubts, keep reading, because you'll learn why you should turn app development into your new full-time job.
1. High salary right from the start
There's nothing wrong with wanting financial prosperity and stability right from the start, at least not when you're an app developer. How much can you hope for? Well, front end web developers have a good entry-level salary in the U.S, ranging from $61,000 to $77,247 yearly. Don't forget that this is just the entry-level salary, which means that you'll earn much more as you gain experience. Your salary will vary depending on your experience, education, geography, operating system and job type. For instance, some companies want their employees to have a certain certificate and it's different when you work as a freelancer or for a startup company. There are also some tech hot spots where the pay is higher due to higher living costs (Silicon Valley).
2. Time and location flexibility
Not many reasons to become an app developer are as motivating as money, but time and location flexibility surely are. A lot of app developers work remotely which brings a ton of benefits, such as working in your pajamas on a balcony of a five star hotel and taking a swim in the ocean when you want to take a break. Sounds too good to be true? Well, working remotely means that you just need to carry your laptop with you and make sure to have a Wi-Fi connection and you'll be able to work from anywhere you want as well as choose your own hours. Just make sure to meet your deadlines and you can make your own schedule.
3. Various career options
As you've just learned, one of the reasons to become an app developer is that you can work remotely, but this is not the only option you have. If working remotely is just not your thing, you can always find a job at a big tech company. That's not all because you can even start your own app developing company, so wouldn't that be great? The world is your oyster when you're an app developer and you can choose the type of work that you like best.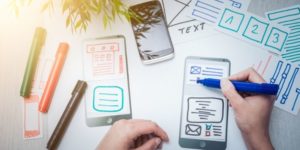 4. High demand and job security
People aren't going to get tired of using smartphones anytime soon. The demand for apps is just going to grow, so there's always room for good app developers. This is the job that you'll be able to do for the rest of your life, if you choose to, and not everyone can brag about that kind of job security. You could even say that all today's businesses need apps and you wouldn't be far from the truth. Apps are always going to be popular and you have a variety of career options. That kind of job security isn't that easily to find.
5. You can learn online
Don't have a college degree or other proper education for an app developer? No worries there because you can find many great websites that offer classes online, even college courses. Just like you can do this job in your pajamas, you can learn it in them as well. No long drives to work and no crowded classrooms, just you and your laptop – doesn't that sound great? Well, it is, but there's more. Not a lot of people will ask you for a college degree or a certificate to hire you to work for them. What they'll want from you are your skills, and if you have them, you'll rarely need any paper to prove it.
6. A fulfilling and fun job
Developing apps is truly a fulfilling and fun job. You might end up creating an app that makes it easy for people to donate to charity or a game that your kids are going to play. As an app developer, you can turn any idea into a product that people are going to use, and you're sort of like an artist actually. You'll have to think outside the box and come up with ideas that will turn your code into a true masterpiece. Creating something from scratch is always fun and fulfilling!
7. It's creative and improves problem-solving skills
People often think that any kind of coding is just boring work that you do on your computer, but that's not true. You need to be creative to be an app developer and have admirable problem-solving skills as well. You're not just going to code, you'll be creating something that people will enjoy using that you'll put in your portfolio!
8. You can use the knowledge in your personal life too
If that's not enough reasons to become an app developer, there's more, and one of them is that you'll be able to use this knowledge for your own needs as well. Maybe you could develop an app that will help you keep track of your schedule, a fashion app that helps you pick the right outfit or a game that your kids would like to play. The possibilities are endless, so start learning and turn app development into a profitable career!